Photo Collaboration University Without Walls Students x Olivia Mikolai Ridge
Eric Watkins x Olivia Ridge
Correspondence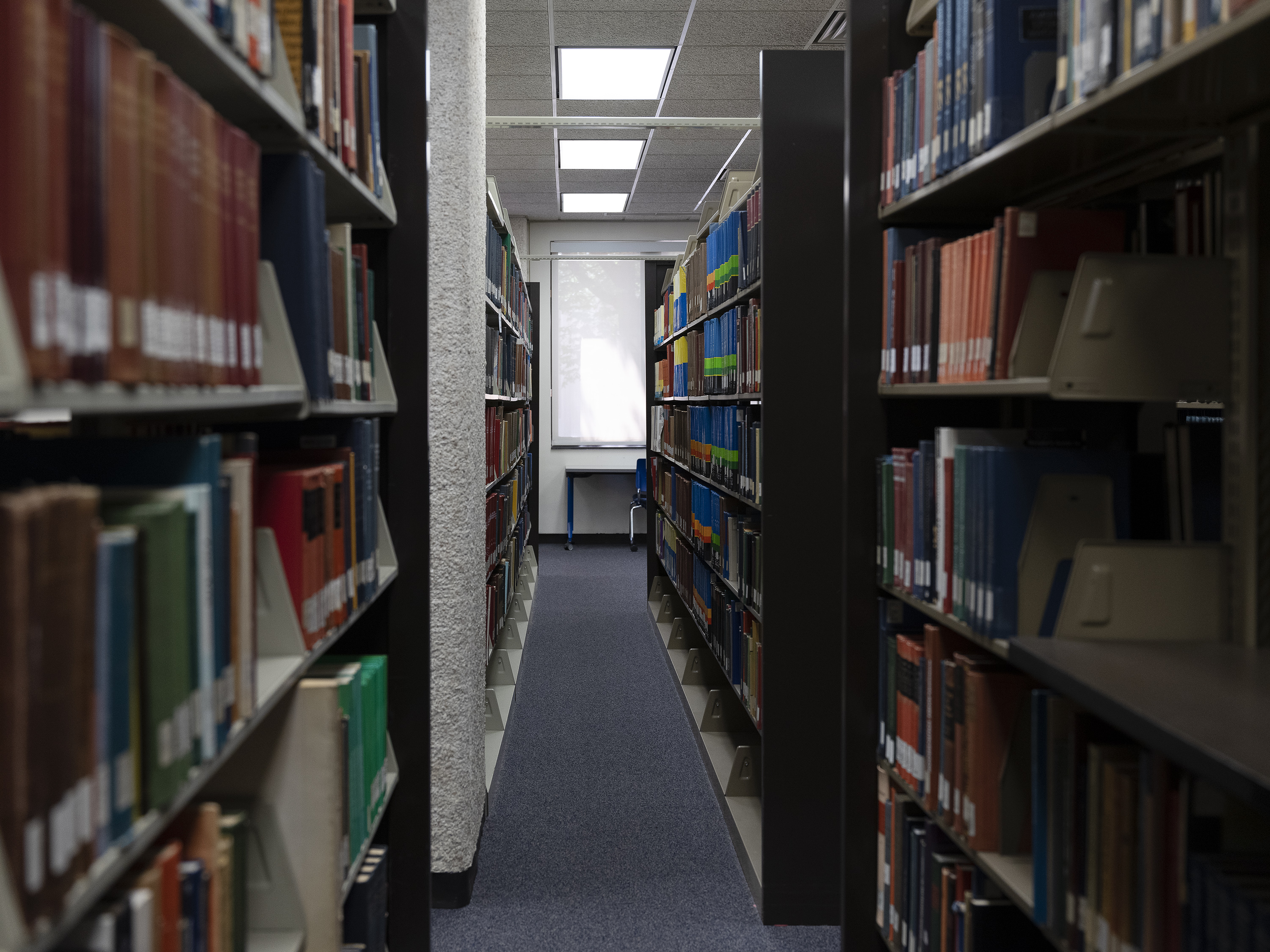 Symbols of Freedom To Me - North Park, DePaul, and Northeastern Illinois University Campuses, 2022, by Eric Watkins and Olivia Ridge


First Correspondence Q & A
02/02/22 & 02/18/22

OR: How do you want to be seen? This is intentionally a broad question for you to answer literally or abstractly. Photographs reflect parts of ourselves. What would you like people to know about you from your image?

EW: I chose to answer this question with both literal and abstract perspectives: Literally, I want a collage of 7 photos of me (before incarceration and during the greatest events I've experienced while incarcerated), along with pictures of my family/children, my paintings and major accomplishments, and representations of my faith.

Abstractly, I am a contradiction of my convictions and the negative image prosecutors painted of me 25 years ago. I am actually innocent and wrongfully convicted, sentenced, and imprisoned. (In Oct 2021, after years of thorough examinations of my case by teams of attorneys, I had a very successful open clemency hearing, wherein mounds of evidence of my innocence and accomplishments were presented and uncontested.) Not only is my imprisonment wrongful, but for 25 yrs I've lived contrary to negative stereotypes accompanying criminal conviction and imprisonment in a maximum-security prison. I am a devout follower of Jesus Christ, and I have maintained an exemplary prison record. I have worked hard to increase my education and ability to help others, and, overall, to better serve my community.

Although I want others to know I'm innocent, you may not be able to communicate that photographically. I do want others to see and know how, by God's grace, I have triumphed over tragedy.

OR: Describe the best photograph of yourself. This photograph can be imagined or real.

EW: There are real photographs of me that I consider equally "the best" photographs of myself. a) Prior to being incarcerated, I tried modeling for a few years. There's a "Glamour Shots" picture from the mid '90s that I took with a suit on. I no longer have this photo but I have a couple B&W model photos left. b) There's a photo I took standing side by side with Lt. Governor Juliana Stratton during our UWW graduation ceremony. PNAP usually shows a picture of me facing her while talking. However, in the picture where I'm standing shoulder to shoulder with her, the brightness of my smile communicates the joy I felt during that unique moment in time.

OR: What is your relationship to your State ID photo (like it, hate it)? Would you change or edit your State ID photo if you could? If so, what would you do?

EW: 50/50. I don't like the prison photo style of it. And my head looks more pointy than usual. What would I change in it? The pointiness of my head – I need a pointy head reduction. LOL. I would change my blue shirt to something that communicates freedom. Like a nice leather jacket.


UWW Graduation Ceremony 2019
From left to right: Eric Watkins; Eric Watkins pictured with Angela Davis; Eric Watkins pictured with Juliane Stratton. Photos courtesy Prison + Neighborhood Arts/Education Project
02/18/22
Dear Olivia,

I am honored to participate with you and my fellow UWW alumni in your (our) amazing photographic art project.

"You had me at hello" as a fellow visual artist (oil painter-portraits and fantasy art). My artwork has been reproduced in a few magazines. In compiling images for my personal profile, I would like to provide you with material to create a collage representing my life. Due to space limitations, my artwork is being stored, well-preserved, and even displayed in an office in Chicago. Please let me know what is the best way to connect you with them.

Second, North Park Theological Seminary's School of Restorative Arts and the Prison + Neighborhood Arts Project have some of the best photos taken of me (at North Park's 2019 convocation/induction into their master's degree program and at NEIU/UWW's 2019 graduation ceremony). I would like for you to have these photos at your disposal for this project. Either you or I can request them from North Park's Vickie and PNAP's Alice.

I am excited about this project. I look forward to working with you and telling my story through photography.

Sincerely,
Eric Watkins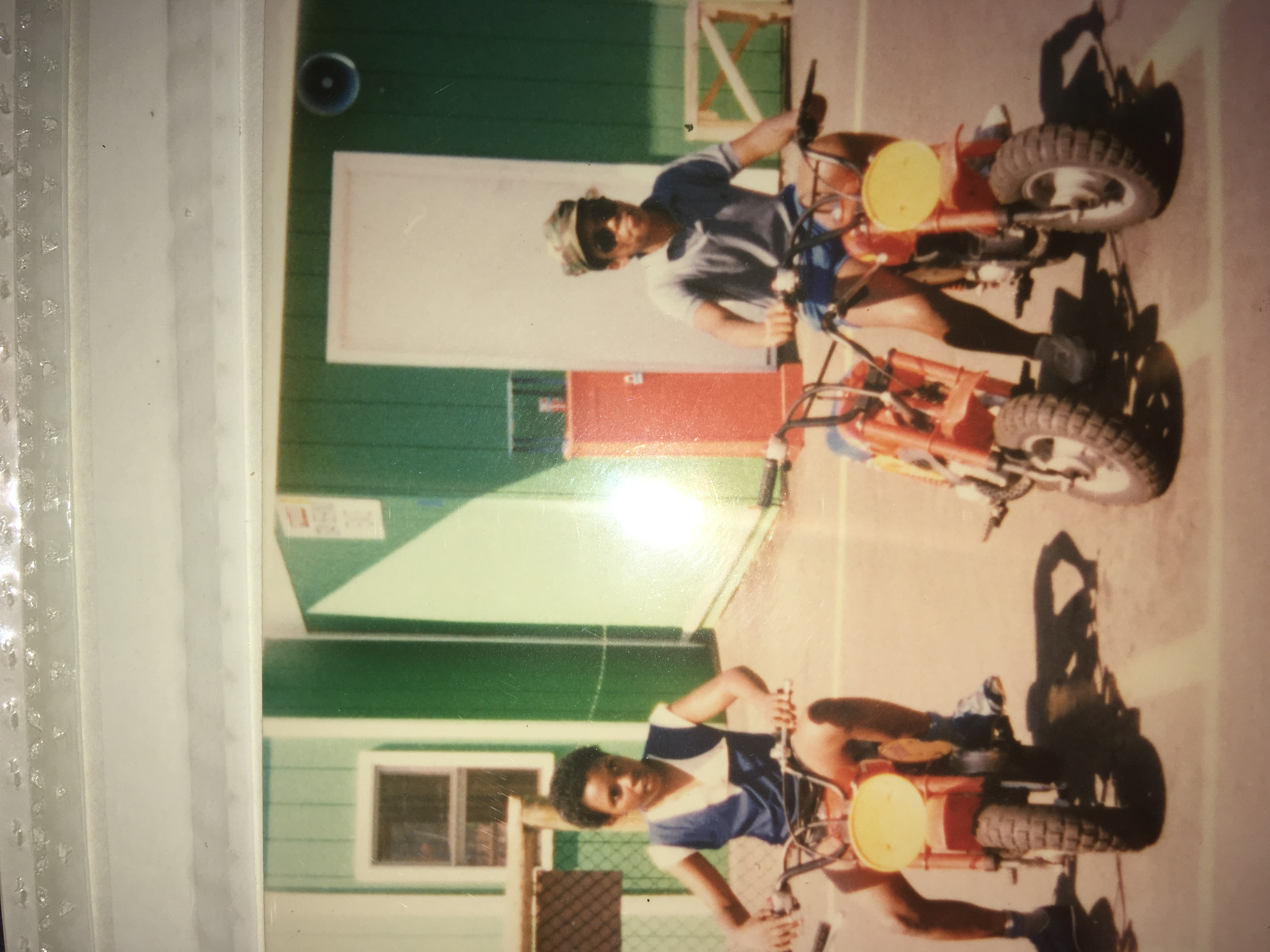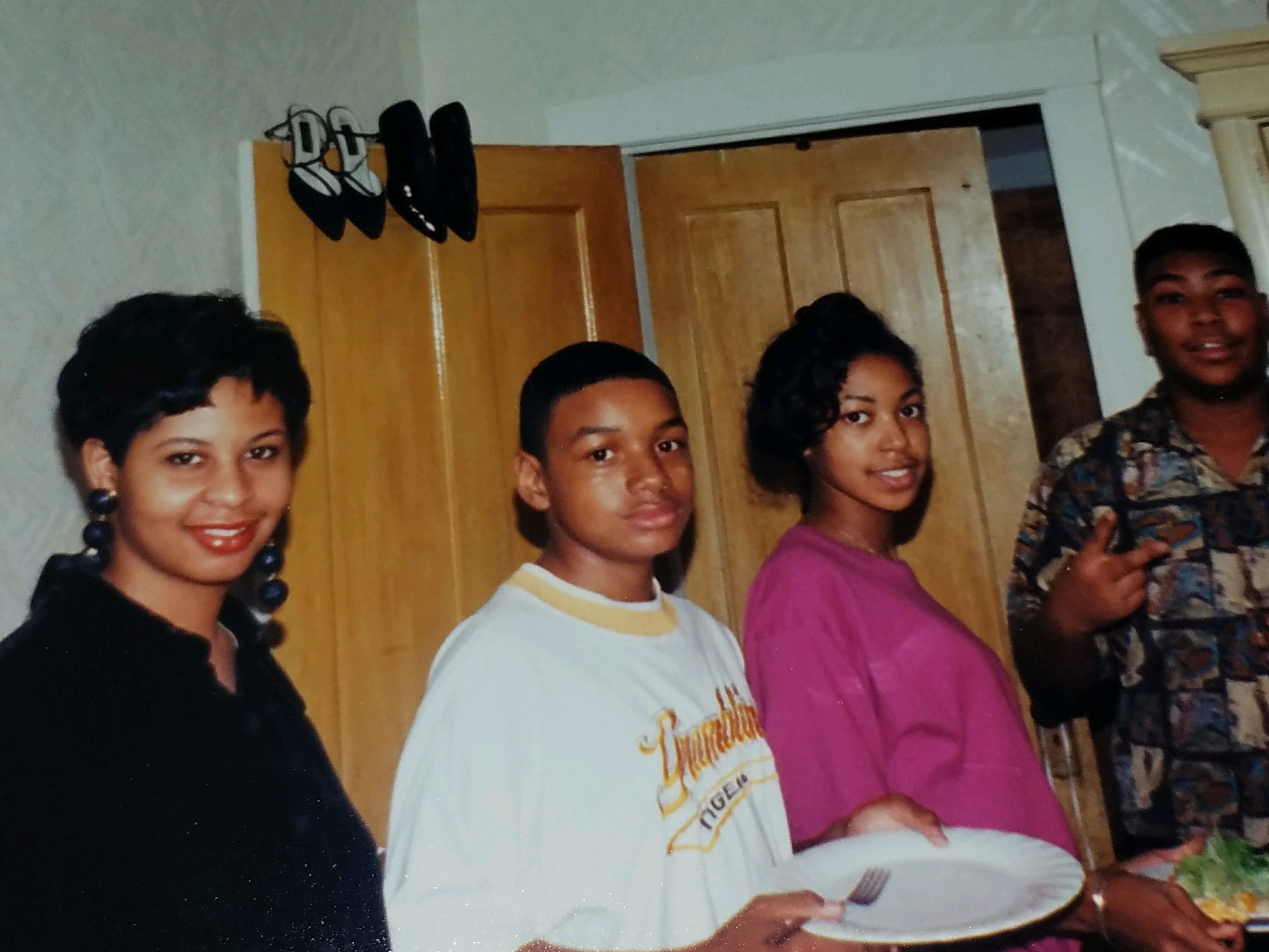 Slideshow gallery of Eric's family photos
Courtesy Eric Watkins's family.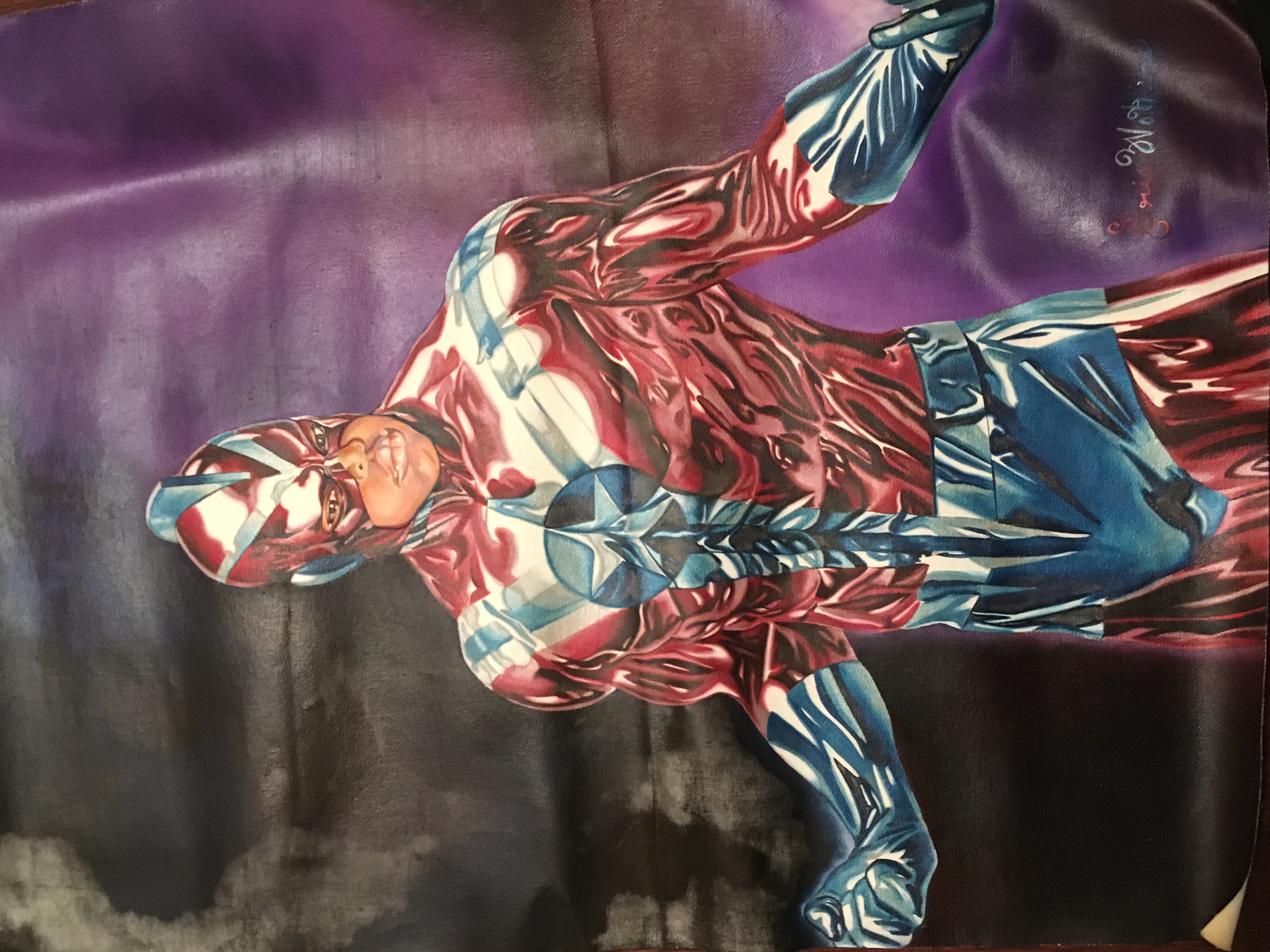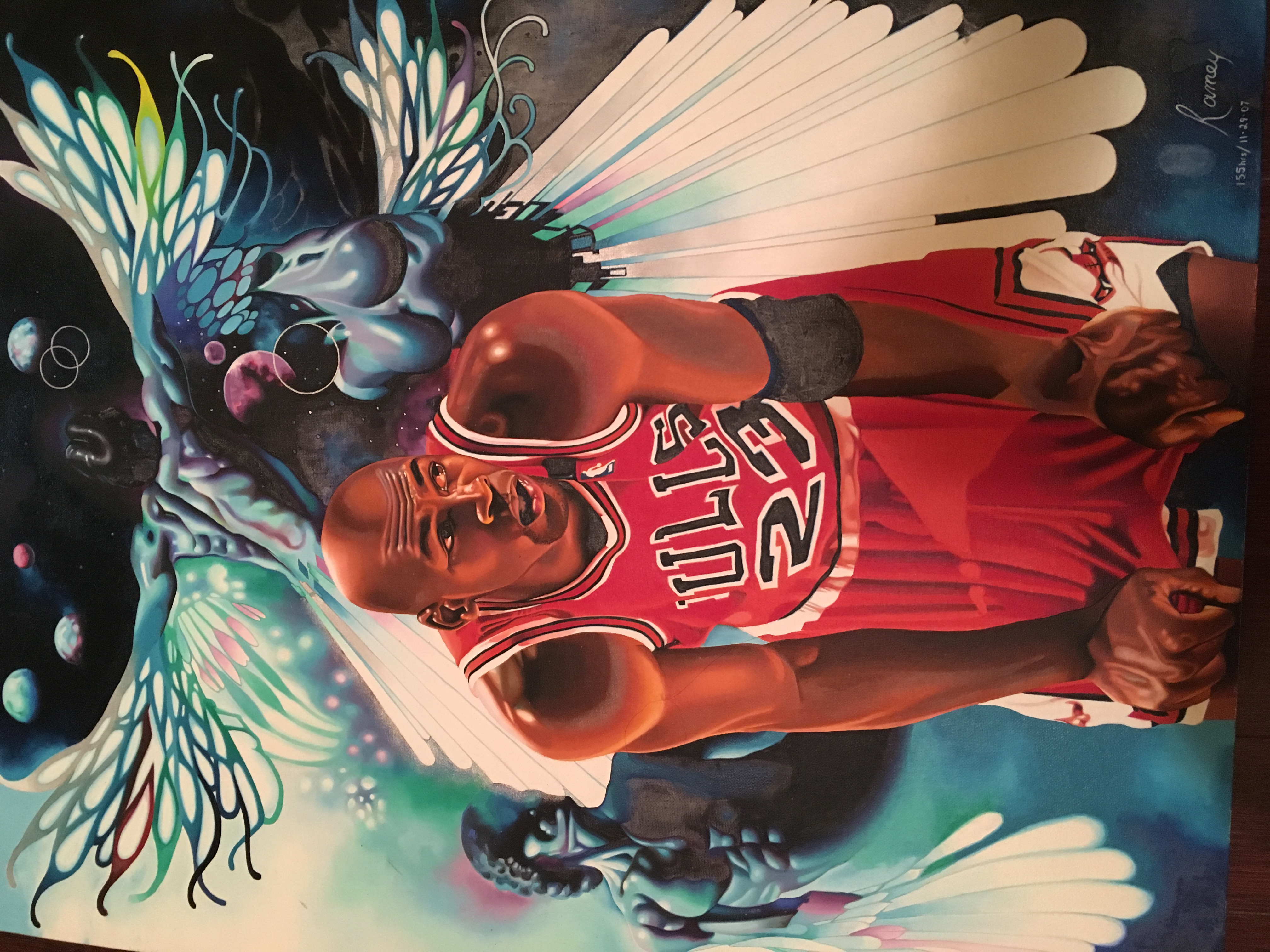 Gallery of Eric's original artwork
Photos courtesy Eric Watkins with documentation by Tyara Simpson & Melissa Pavlik.
03/01/2022
Hi Eric,

Thank you for your thoughtful and detailed response. I am compelled by your idea to bring together the best existing photographs of you with your visual art. I especially look forward to getting to know you through your artwork. As it seems you have a lot of material to work with for the collage, I foresee we will do some back and forth to verify details of the images you would like included. For the time being, I have some questions and some answers for you.

First, it is an excellent idea to use photos from PNAP and North Park. I will be able to request them from PNAP. I should clarify that my question about State ID photos was referring to your IDOC State prison ID photo. It is not a rule or requirement that I stick to this image, but for some it may be the only photograph I will get access to. I will happily use other photos if provided access to them!

The changes that you would make to your ID photo are simple for me to do on Photoshop. I have attached a photo to this letter in which I added a leather jacket (is this one cool enough?) and rounded out your head. What do you think? I would love to hear your reaction to this kind of manipulation to the ID photo and will continue to make changes if you would like.

Thanks for the update regarding Zoom! I will check with Jason if it would be possible to conference with you or visit in person. You also asked about the timeline of the project. We are planning to complete the project by the end of the spring term.

All for now! Looking forward to working with you on your collage.
Olivia
03/11/22

Hello Jason & Olivia,
I hope both of you are doing well.

I received your response and copy of my photoshopped pic. I had a good, very enjoyable, laugh. I like it. It's hilariously good, especially my pointy head reduction. Image over IQ is a doable sacrifice on paper. Speaking of smiles, I thought my teeth were whiter. Since 2020, they've only been selling us cheap toothpaste without whitening. Therefore, please whiten my teeth a bit. I like the black leather/pleather jacket and gray textured shirt. Looks like I'm ready for eHarmony–my two daughters would laugh while needing medical assistance.

Sincerely, Eric Watkins
03/24/22
Hi Eric,

Based on correspondences with the other students, my plan is to photograph one physical location for you as the uniting aspect of the larger project. This will serve as the background to any photographs that you would like collaged on top. Keep thinking about where this might be for you. I was wondering if you have been connected to any churches in the Chicago/greater Midwest area or if there are other places that are related to your faith. To help you think about a place you would like photographed, I thought about rephrasing the question: where do your most important memories, imaginations, and projections of the future take place?

That said, I recognize that this idea of a place may be arbitrary for you and I do not want to impose my own vision too much. The idea of a place can be abstract as well. As a fellow artist, I could make some place come to life that is only in your head. The background of the photograph does not have to be a physical place, but a design or anything that holds meaning for you to have your collage cast upon.

Let me know if that sparks anything! I'll write again once I've gotten the chance to go visit North Park and see your artwork.

All the best,
Olivia
03/30/22
Hello Olivia,

Thank you for your patience. Throughout my nearly 25 years of incarceration (from April 22, 1997 to present) many places have been changed or removed. However, as a photographic reflection of my faith, friends, and future, I would like pictures of North Park University/North Park Theological Seminary's beautiful campus (buildings, etc.) placed in my background. I have been in NPU/NPTS since 2015 and will be graduating with an MA in (or by) 2023. I've earned certification in numerous areas. I also would like photos of DePaul's and Northeastern's campuses placed in the collage.

As you know, I was a student in DePaul, Northeastern, and North Park Universities while incarcerated. However, if I wasn't incarcerated, I would have attended and likely lived on campus at these universities. DPU, NEIU, and NPTS/NPU professors have invested in my life greatly - they contribute to the beauty of my life, faith, and future.

Buildings, libraries, and classrooms represent student life and are symbols of freedom to me.
Feel free to go online or contact professors and select photos of these universities pictured in different seasons.

Please let me know your thoughts.

05/03/22
Hi Eric,

Thanks for your patience. I was able to take a drive this weekend to visit some of your college campuses. The North Park Seminary Campus is indeed beautiful. Especially right now since the cherry blossoms are in full bloom! I have attached photographs for you to look over of the North Park Theological Seminary main building. In case you are curious, the statue out front is of a Swedish hymn writer named Lina Sandell (I had never heard of her).

The direction of the project has definitely changed a lot since we first started talking about a collage. I'll be honest, it's been difficult for me to collect all the photos you have generously offered up for the project. For the sake of uniting each student's photos, I am planning to focus on making this sort of background photograph and overlaying your own writing with the image, so in a way this place or scene can stand as a representation of you, like a portrait without your likeness. I will also attach examples of your writing that I relied on to make the photo.

Let me know what you think of this idea and of the photographs I have attached. If you would like me to make any edits, or if you want to make any notes on these photographs, please feel free to annotate the copies and send them back to me. I can return to the campus if there is another idea for a more specific shot you might like to have. Let me know what you think about any of the notes above and photos below!

Olivia


05/04/22
Hello Olivia,
I really like these photos of NPU's campus. I've included a couple minor edits. I appreciate your work. Thank you.
05/24/22 & 07/26/22
Hi Eric,

Thanks so much for your notes on the photographs. I love the ones you selected and your notes. I will make sure to edit out the rust, A/C unit, and dirt around the steps.

Putting together the selections for the website and a physical exhibition of the work, we will show 3 photos in total for your section – one from each school. Keeping in mind that for most of the students we are only showing one photo, we will show a triptych, a set of three, for your section. For the DePaul and Northeastern Campuses, I've sent you a bunch of photographs of the libraries, campus life, and classrooms to go with the photo of North Park's Seminary building.
...
I've attached one page that shows all of your favorites grouped together by school. On the following page, I started making some groupings that I think look really good together. I love that the North Park Seminary demonstrates your faith, while libraries and student life represent academic and social aspects of your identity respectively. Visually, my favorite combinations are triptychs 4 & 5. The color combinations look nice together and the distinct architectural lines are split up really nicely. I wanted to offer my perspective, but that said, you should choose based on what you see in the images. What they represent to you is what will make for the strongest selections.

Thanks for your thoughts!
Olivia
07/20/22
To: Olivia

The universities depicted in these triptychs reflect the many school programs I attended while incarcerated. They represent acceptance – looking past my history and valuing my humanity. They echo my accomplishments and victories over adversity. And they symbolize freedom and a lifestyle of positive pathways I've chosen toward healing.

-Eric Watkins
Oil painting by Eric Watkins