Photo Collaboration University Without Walls Students x Olivia Mikolai Ridge
Antonio "TK" Kendrick x Olivia Ridge
Correspondence
There are Two Pictures I'd Like on my Desk, 2022, Antonio Kendrick and Olivia Ridge
First Correspondence Q & A
02/02/22 & 03/16/22

OR: How do you want to be seen? This is intentionally a broad question for you to answer literally or abstractly. Photographs reflect parts of ourselves. What would you like people to know about you from your image?

TK: I want to be seen as a businessman (a successful businessman) and scholar.

OR: Describe the best photograph of yourself. This photograph can be imagined or real.

TK: The best photo of myself would be in a well-lit modern decorated office with me in a suit and tie.

OR: Is there a real or historical place you would like to be photographed? Imagine you can be photographed in any place or setting that holds meaning for you. How does this setting relate to how you want to be seen?

TK: I'd like to be photographed in an office and in a public space advocating for racial equality. I created a concept called SCORE which stands for Support Causes of Racial Equality, so I'd like to be pictured with a SCORE t-shirt (long sleeve).

OR: What is your relationship to your State ID photo (like it, hate it)? Would you change or edit your State ID photo if you could? If so, what would you do?

TK: I hate it because I don't have my black square-ish framed glasses on.

OR: What was the last photograph that was taken of you? What is your relationship to that image?

TK: The last photograph that was taken of me was at school at North Park University's Seminary School of Restorative Arts, Stateville campus, where I'm entering the final year of its master's degree program. I will be graduating in the spring of 2023 with a master's degree in Christian ministry with an emphasis on restorative arts, which includes restorative justice, transformative justice, and pastoral care. In that photograph, I appear as a scholar, teacher, and leader — as a man who is physically, mentally, and spiritually equipped to pursue his purpose and embody the change that he wants to see in this world.


03/29/22
Hi Antonio,

Thanks for your thoughtful response. I am compelled by the specificity of the office that you describe in your ideal portrait – well-lit and modern with you in a suit and tie. Thanks for sending the drawing of your SCORE long sleeve t-shirt. You mentioned that you would also like a photograph of you advocating for racial equality in a public space. As you write about the photos, I pictured them intertwined – where the work and success of SCORE takes place in a modern office setting, with you at the helm.

I can already picture your black, square-rimmed glasses on the desk and a suit and tie draped over a chair to stand in for you. Would you have any specific photographs on your desk? Art hanging on the walls? Are there objects or representations that would help highlight the origins of SCORE and your own commitment to advocating for racial equality? Do you have a view out a window? What would be the view outside?

Further, I wanted to ask about the office space itself. If you are connected to the Chicago area, are there particular buildings that are important to you here? I personally have always loved the Chicago Tribune building. Alternatively, are there any particularly cool offices from movies that have stood out in your mind? I ask this in case there are further references for your conception of the desired office space that would help bring your idea to life. In a quick Google search, I found one photo of a modern office desk that stood out to me. It made me think about how personalized an office can be, even though this one does not appear to be. Please feel free to annotate and mark up the photograph to describe how you might personalize the elements of such a space.

Finally, I would like to know more about how you intend to structure your role at SCORE. If you are the boss, what kind of boss are you?

Looking forward to working on this image with you,
Olivia
Image courtesy officedesk.com
03/30/22
Olivia, I hope this correspondence reaches you well. As for me, I am doing ok. It was great hearing from you. I really like your ideas about the project. I like the office pic that you sent me. There are two pictures I'd like on my desk. A picture of Dr. Angela Y. Davis and Dr. Beth E. Richie. You can Google these people and choose any headshot. The only thing that I'd like on my wall is a cross. As it pertains to SCORE, I developed SCORE after the murders of George Floyd, Ahmaud Arbery, and Breonna Taylor. I wanted to create a means of protest for racial equality that is racially and politically inclusive. I'm starting the SCORE store, a website that will sell SCORE apparel, and 15% of all profits will go towards scholarships to HBCUs (Historically Black Colleges and Universities). It could be cool to have a SCORE t-shirt on with people of various races standing next to me. However, I do want the office scene.

Ultimately speaking, whatever you do will be so cool.

Thanks,
Antonio Kendrick "TK"
07/19/22
Hi Antonio!

Here are some photos for you to look over. I ended up renting a high-rise office space in downtown Chicago to take these photos. I picked one with the best view so you can envision the success of your organization and your place as its leader. I did take a bit of creative license by adding the collage of photos of Beth Richie and Angela Davis on the table-top; the scene felt empty or stark to me with only the two photos on the desk. Below you will see several options and you can decide what you like best. I have photoshopped the SCORE logo onto the sleeve of a long sleeve white t-shirt. We can change the font or add a more decorative logo if you like. I couldn't hang a cross on the wall since it was a rented office space. Think about where you would place a cross in the image and perhaps we could draw it in. Several of your peers are making small additions to their images by drawing on the image for me to scan.

Looking forward to your feedback!

All the best,
Olivia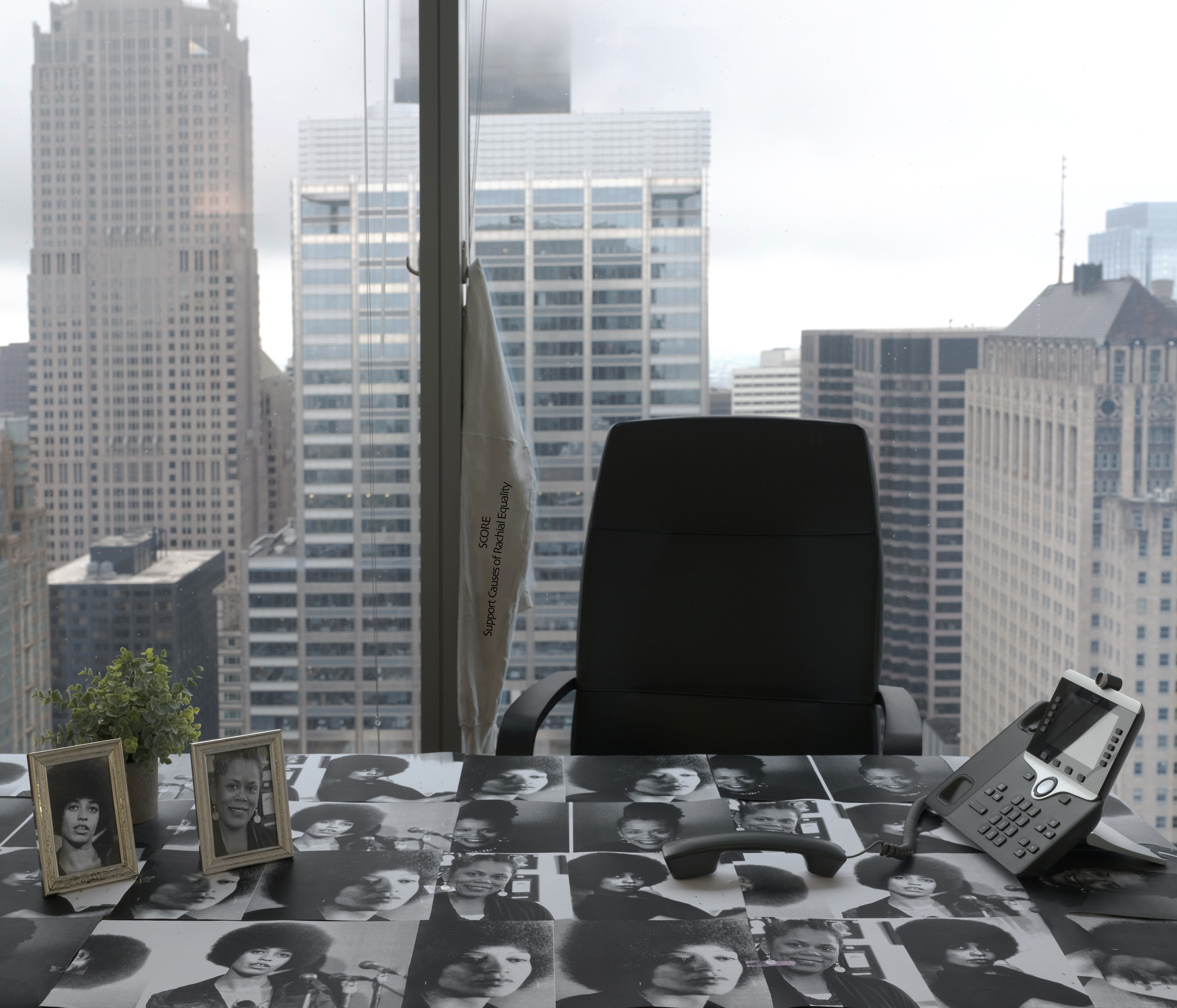 07/20/22
Jason, Enclosed is some information for Olivia. With that information is my only copy of the SCORE logo. After you scan it for Olivia, can you return it to me?

TK
©Antonio Kendrick